Improve LoD
Submitter
File Information
Submitted: Jan 17 2015 06:35 AM
Last Updated: Jan 22 2015 11:16 AM
Views: 3249
Approved by:

DracoL1ch

Approved on: 17 January 2015 - 07:23 AM





3 Votes
lod

1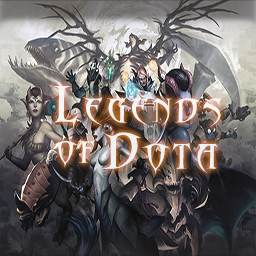 Please report bugs for this map here:
Bug report subforum
v6.83b
General
Terrain and shops locations at both bases changed
Fountains attack range increased to cover whole highground area
The following abilities no longer have restrictions when cast on Spell Immune Allies: Kunkka's X Marks The Spot and Warlock's Shadow Word
Morph no longer have 'single cast' - pressing skill / hotkey will turn autocast on or off
All antihack stuff moved out into mode "-ah". It will no longer spam selections in non-ah games.
-noneutrals no longer sub-mode but one of game modes "-nn" with the same functionality
Networth display become red if player can't buyback
Old-fashioned bottle-rune pickup no longer wastes bottle but refills it as well as activate rune
All bonus damage, provided by damage amplifiers, now shown overhead target
New Mode
:
RD
, where you have to chose one of 14 random heroes with random skillsets. Pre-pick delay: 60 seconds. Pick time: 20 seconds. This mode can't be affected by stun limiters (-ls) but you can add 4/8/12/16 more heroes into pool via d2/d3/d4/d5. Note, that pre-initial spawn may take time on old PC. Totally 4 mins until first creep wave starts (1min start delay + 2 mins for picks 1-2-2-2-2-1 + 1min post-preparations)
New Hero
:
Ogre lord
. Combines following skills:
New Bloodrage (increase unit's outcoming and incoming damage, while allowing it to heals from killed enemies); [A44X]
Bloodrite (AoE delayed nuke + silence); [A44Z]
Ante Up (single hero target, deals damage based on target's current gold); [A44U]
Cash In (single hero target, deals damage based on difference betwee target's and caster's gold, if target have more gold - provides gold for caster and target equal to this difference. Always stuns target for 1.5s.) [A44V]
New hero
:
Mammoth the Fire lord
. Combines following skills:
Firewall (AoE slowing and damaging trap); [A451]
Fire Stomp (AoE stun with casting time and overhelming damage/stun duration (for non-ulti spell of course)); [A454]
Fireshow (passive Pulverize); [A45B -> QP26 (hidden)]
Inferno (active aoe-damage and enemy's damage reducing ability); [A456]
Balance
Respawn time rescaled from 4*Level to 5 + 3.8*Level (total is still 100 at level 25)
Melee/Ranged Barracks team bounty from 125/75 to 175/100 gold
Old Marksmanship gives primary attribute instead of agility only
Rupture damage type changed from direct HP removal to Pure, magic immune piercing (now it reflects back and doesn't affect invulnerable units)
Midnight pulse removed from spell pools again - too many issues
Infest now restores unit's mana when Mind control activated
Infesting out hotkey changed for Centaur and Wildkin from T to E [A459]
Mind control no longer use unit's cast point
Lightning Grapple also deals damage to units that are hit in the target area in a 250 AoE
Ethereal Blade can be double-clicked
Fixed Ethereal states couldn't be prolonged when item refreshed (Ghost / Ethereal blade)
Anchor Smash radius reduced from 400 to 375
Omnislash cast range reduced from 450 to 350
Chronosphere manacost increased from 150/200/250 to 150/225/300
Added Aghanim for Rooftrellen, allowing him to place Eye in the Forest which will deal damage and Overgrowth enemies on hero's cast (Eye: A01V, Overgrowth Upg: A44S). Enemy can see Wisp and visual effect if they have True Sight.
Utility Lobster stats:STR
: 18+1.5 -> 21+1.8
AGI
: 18+3.1 -> 22+2.9
INT
: 12+1.9 -> 16+1.9
Sieger:AGI
: 14+2.0 -> 16+2.0
INT
: 11+1.1 -> 19+1.9
MS
290 -> 300
Space Orc:Model size increasedDamage
: 40-47 -> 54-58
STR
: 17+2.4 -> 20+2.6
AGI
: 13+1.9 -> 17+1.9
INT
: 14+1.4 -> 17+1.7
Fixes:
Fixed potential problem of global fatal errors
Fixed Clarity restoring incorrect amount of mana
Fixed Quelling blade bonus damage being too low
Fixed buyback didn't prevent earning gold
Fixed Ring of Health and Perseverance get blocked by Armlet
Fixed Boots of Travel coult teleport almost to every single unit in game, including wards
Fixed Borrowed Time incorrect agha duration
Fixed multiple damage aplifiers affect each other
Fixed Old Marksmanship didn't provide bonus when learned while hidden via -sp
Fixed primary attribute detection can be confused by morph-abilities
Fixed leaver allows teammates to pick heroes faster than enemies
Fixed Supernova receives more than 1 damage under some conditions
Fixed Infest iteraction with empty bottle
Fixed Infest issues when hosting your own unit
Perfomance improved. If you still suffer of lags/spikes, please report that with replay file.
Bots:
OHS: added -ah to all modes
rgc7 for rdd2s6ebzm
rgc8 for rdd2lsebzm
95

Total Files

2

Total Categories

2

Total Authors

0

Total Downloads
DotA 6.85n LoD Latest File

DracoL1ch

Latest Submitter
0 user(s) are online (in the past 15 minutes)
0 members, 0 guests, 0 anonymous users